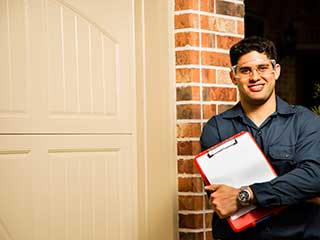 A trusted name in the garage door industry is what you need for any of your concerns when it comes to your garage door. We've been working hard for the past years to put our name on top of the companies that offer this service. We at Garage Door Repair Passaic are proud of our accomoplishments and the strong bond we have with our customers.
Customers Are Always First
Unlike other companies, we do not just aim on earning for our own sake. We strive to build a relationship with our clients and develop their loyalty so we can continue serving them. Supreme service is what we strive for. Anytime you need our help, we always have technicians ready to be dispatched and be of service. We take our job seriously and we want to make sure that you are satisfied with our work.
On the first sign of problems on your garage door, it's recommended that you call Garage Door Repair Passaic right away. This is to prevent the issue from worsening, which could cause a huge inconvenience on your part. Moreover, the bigger the problem, the greater the need for repair. If it gets even worse and it cannot be fixed, replacement may be needed.
You don't have to worry about being overcharged though. We are honest and we bill fairly. As long as it can be done without costly repair we will do it. However, in case it is better to replace the parts, we will let you know.
Whether your garage door cable snapped or your door track is damaged and you need to have it replaced, we have replacement parts which quality you can be sure of. We will never suggest that something be replaced when it doesn't really need to.
For a reliable and trustworthy service, give us a call or message us.