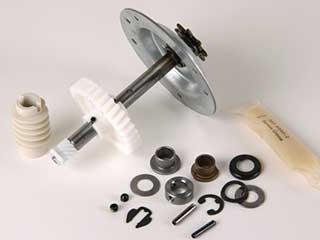 Having experienced the convenience of electric garage door openers, who wants to go back to manual use? On the contrary, all those interested to further improve their overhead door keep their minds in the newest developments. They learn about new accessories, the capacities of the most recently produced remote controls and extra devices that can make their modern life high tech. There is no denial! Such eagerness to follow the steps of modernity and keep making our lives faster is great. Though, we must not forget that some parts – whether new age or not – are always important to our lives because before any other accessory that makes our lives easier first comes our safety.
Pay Attention to 4 Specific Opener Components
We surely must have the appropriate garage door motors, the right clicker and branded openers. Many things play a role to our safe entrance to the garage. If the lamps are not changed, there will be no light when we come in. If the batteries of the remote are not replaced, the clicker won't open the door. If the angle iron where the garage door opener is installed is not made of sturdy materials and is not well-secured, the door will vibrate. Such details definitely make the difference but it's also important to give attention to 4 more parts.
Get an opener reinforcement bracket. It is placed at the upper section of the door and ensures the door is not damaged by the force of the door operator arm. It rather makes sure this force is distributed across the door.
Do you have an emergency release cord? It's vital to have one and being able to reach it easily. Of course, it's crucial to know how to use it since it will come handy in emergencies as its name implies. It won't be useful only when you need to disconnect the automatic operation of the electric operator but also when someone is trapped under the panel and you need to free him.
Invest in backup batteries. It will be the best solution when the power is out and you want to bring the vehicle in the garage. Just make sure it is charged.
The sensors must be inherited to your opener. They ensure safety and, thus, they must be installed 6 inches above the floor and often checked, adjusted and cleaned.