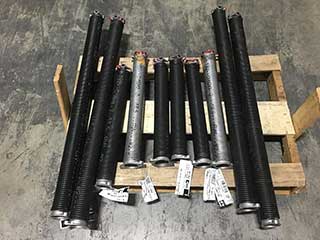 The Spring System
The garage door springs are possibly the most important ones when it comes to operate your door. If you have an automatic one and have a problem with the opener, you will be easily able to lift it manually, but if one of the springs is broken this will be risky and pretty much impossible. There are torsion and extension springs, but the most common type on residential doors is the torsion type. It has a longer life span than his extension counterpart. Most springs on the market nowadays should have an average of 10,000 cycles, when every opening and closing of the door is considered one cycle. The springs accumulate tension and use it as energy while the door operates. This way, this energy counterbalances the weight of the door, so it is kept safe and balanced. A broken springs calls for a professional service, as this dangerous tension can cause a lot of damage if released when someone is around, or inexperienced in handling it.
Importance of Safety Cables
It's important to have spring safety cables attached to your door as they help control a possible spring breakage. Most extension springs installed are conveniently equipped with safety cables, but if for some reason your spring doesn't have it, it would be wise to call us up for an installation. In general, when a garage door spring breaks and flies, the safety cable helps to contain the spring to avoid potential injuries, which is why it is very important to have. If your cable broke its immediate replacement is vital, and is one of the many services we provide. Repairing a broken cable isn't technically possible, but putting a loose one back in place and adjusting it is possible as long as it isn't severely damaged.
Our team can also take care of:

Overhead Door Installation

Garage Door Out of Track

Screw Drive Opener Replacement

New Opener Remote Controls