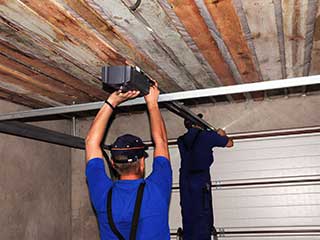 Garage door openers are built to last a long time, but there are a few good pointers to consider replacing yours with a new one. You can find newer models equipped with more helpful features that offer convenience, safety and security. Here are signs that tell you when to start shopping for a new one.
Safety Reversal Features
Latest garage door opener models are now required to have safety reversing mechanism. Sensors are used to sense if something or someone is under the door. If it is about to close, it will stop and reverse. This is very useful to avoid injuries if there are kids and pets at home. Garage door repair Passaic experts recommend replacing old models that do not have sensors with new one so that safety is not compromised.
Lack of Security
Aside from safety, older automatic garage door openers are more vulnerable to burglars. It is because the remotes have a fixed code. When someone attempts to break in the door, they can easily do so by merely staying outside the house to track the code. Later models are equipped with rolling code feature that changes the code each time the device is used. Thus, the code is not duplicated and intruders will not gain entry.
Other reasons to upgrade to a new opener are for keyless entry. You can buy openers equipped with keypads, which could be mounted outside the garage.
You simply program a code that will open the garage door. If your current system does not support this, it is time to upgrade to a new opener. There are many different brands of openers you can find in the market, and you can easily find these useful features in them. Your convenience, safety and security are three things you should never compromise.