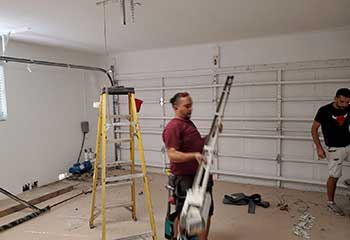 Garage Door Opener Replacement
Customer Issue: The customer's garage door opener got slower and noisier every year, and it wasn't new when he first moved in. It was clearly time for a replacement.
Our Solution: The LiftMaster 8355W belt drive opener is basically a newer, more advanced version of the customer's old unit. We disengaged the old garage door opener and gave the bracket a good cleaning before installing the customer's new 8355W and connecting it. Installing the new drive belt was tricky due to the state of the garage roof, but we got it in securely. With the new opener hooked up and calibrated, the garage door opened and closed smoothly.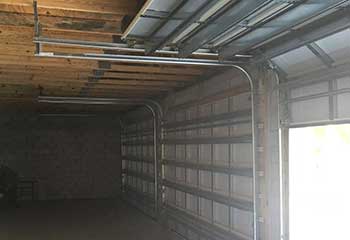 Track Replacement
Customer Issue: One of the customer's garage door tracks cracked around a rusty section, as it had been threatening to do. Replacing the track seemed a better idea for the long term than just patching the damage.
Our Solution: The garage door still opened, so we let the customer remove her car before disconnecting the door and lifting it off its tracks. The right track was still in good condition, so we just reapplied some insulation to that one and only removed its opposite. We then leveled the new track in place and screwed it in before reinstalling and testing the garage door.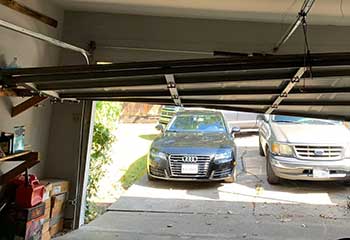 Broken Spring Replacement
Customer Issue: The customer reported that his garage door was badly listing to one side, and not opening all the way. We talked him through a diagnostic, and determined that he had a broken extension spring.
Our Solution: We disconnected the garage door and raised it to the open position by hand before locking it there with clamps. Once the customer removed his car to give us room, we loosened the cords at the pulleys and let the springs ease themselves loose. We then removed the springs, cleaned and lubricated the pulley and extension cable systems, and installed the new pair.